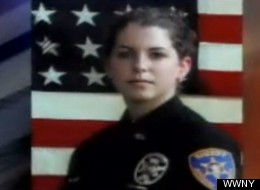 Female cops put up with a lot of crap. This one agreed to pose topless as part of a sting operation, and now the department can't find the original copy of those images and she's not happy.
A New York sheriff's deputy says in a $50 million lawsuit that an officer asked her to pose naked as part of an undercover operation and now the department can't find the photos.

Krystal Rice alleges that she posed for the suggestive pictures to aid an operation against online pedophiles. In the civil lawsuit, filed Monday, she contends that Jefferson County Sheriff's officials promised her in 2006 that access to the images would be tightly restricted, station WWNY said.

The decision was one she came to regret. The department broke the terms of the deal, the suit states, forcing Rice to endure "intentional infliction of emotional distress," the Watertown Daily Times reported . She also claims that the cop who took pictures of her eventually started harassing her and gossiping that she had sex with multiple people in the department.

By her understanding of the agreement, Rice was entitled to ask for the photos back at any time. However, in February 2009, when Rice requested the floppy disk with the images -- the only existing copy of the photos -- the department told her it couldn't be located.

She now worries about how many people have seen the pics, North County Public Radio said.
Krystal Rice Topless Photos: Cop Sues Sheriff's Department After Being Asked To Pose Semi Naked