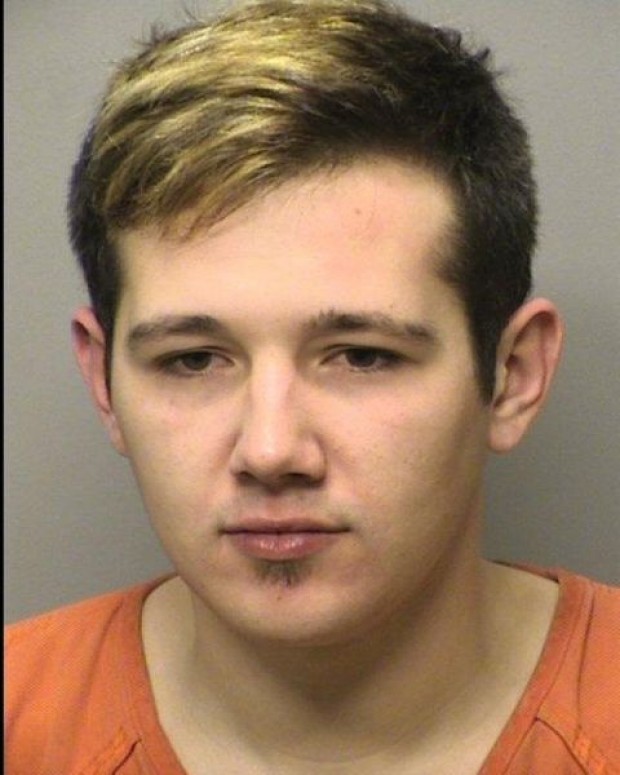 Apparently Timothy N. Thompson, 23, of Valparaso, Indiana was supposed to get married at 7 PM last Saturday night at the Nativity of Our Savior Church and was running behind. WAY behind. Or maybe he really didn't want to get married and wanted to die in a car crash on the way.
Either way, he decided to make up for being late, as many of us do, by speeding just a little bit. Okay, maybe a lot. Like going 100 mph on a local road. Not the highway, mind you, but just a regular road.
In his defense, when cops did catch up to him, Thompson admitted he was going a little fast, but clarified that by saying he had his flashers on and was sounding his horn to warn other drivers. Seems like a good idea.
We don't quite understand why he had to do a "doughnut" in the gravel parking lot, sending a cloud of tire smoke in the air, but hopefully he then jumped out of his truck and shouted "Ta da!" right before the cops cuffed him.
Instead of spending his wedding night with his bride, Thompson spent it in jail with a guy named Bubba.
This will be a funny story at their 50th wedding anniversary, won't it?
Details from the Portage News
According to police, an officer spotted Thompson about 6:30 p.m. Saturday speeding north in the center lane of Willowcreek Road. The officer estimated Thompson was driving 100 mph. Thompson allegedly continued to drive erratically, switching lanes abruptly and, according to the report, nearly wrecking. Police reported they followed Thompson as he turned into the parking lot of Nativity of Our Savior Church on Willowcreek Road, where he again nearly tipped over the Jeep Grand Cherokee. Once he entered the church's parking lot, three people -- later identified as relatives -- began flailing their arms and yelling at him. Thompson drove through the parking lot, accelerating and doing a "doughnut," creating a thick blanket of tire smoke, according to the report. When he stopped, Thompson told police he was late for his wedding and estimated he was doing "about 90" mph. He also told police he had his emergency flashers on and was sounding his horn to alert drivers. When an officer walked away from Thompson's vehicle, Thompson reentered his vehicle and drove toward the entrance of the church, where he was stopped by police again. "Oh, I thought you were done and I'm late for a party in Chicago," police reported Thompson saying. "It now means I have to drive really fast to get there."