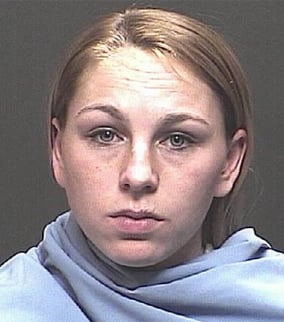 You know, the complaint about young people today is that they do only the bare minimal amount of work, they're not motivated, and that they don't strive for something bigger.
Not Tuscon teacher's aide Clarice Lee, 22, who until yesterday worked at Amphitheater High School. Readers of this site will no doubt know that we cover a LOT of female teacher sex scandals, and most of those more, uh, "mature" ladies usually take on one, maybe two young suitors at a time. But not this spunky teacher's aide!
According to police, Lee when above and beyond the call of duty back on January 18th when she escorted not one or two, but six young men to a private location on school grounds and proceeded to have "sexual contact with two 18-year-olds and sexual intercourse with a 16-year-old in front of three other students" all while being recorded on a cell phone.
No doubt after that the boys kept the video to themselves and never shared it with anyone which is why we're not writing this story today, duh. Of course it got out! Probably when all six of them showed up at the nurse's office with sprained shoulders from all the high fives they got from classmates.
Meanwhile Lee was slapped with four counts of sexual misconduct with a minor and was booked into the Pima County Jail.
Tucson teacher's aide accused of sexual misconduct - CBS 5 - KPHO