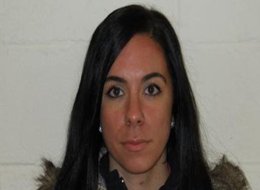 In an interesting twist to a well know female teacher sex scandal story: Erica Ann Ginnetti, 35, only received a sentence of 30 days from a Pennsylvania judge, even though it was obvious from court testimony that she was the aggressor in the case. His rationale? After Ginnetti sent the teen a video of her undressing in a "sexually suggestive manner" the judge couldn't see how, ". . . young man would not jump on that candy?"
So, it was her fault? It wasn't her fault? Why didn't she get the 7-14 years in jail like a male teacher would have in a similar situation?
Details from the Huffington Post:
The teacher and student were in frequent contact in July 2013, after the two had sex in her car parked at an industrial park.

Ginnetti pleaded guilty last year to sexual assault and disseminating sexually explicit materials. The maximum sentence for the two crimes was seven to 14 years behind bars, Philly.com reports.
Instead, Judge Garrett D. Page gave the woman just 30 days of jail time. Ginnetti will also have to register as a sex offender.

Ginnetti seen dancing at a Lower Moreland High School function.

At her sentencing hearing last Friday, Ginnetti cried in court while reading a letter of apology. The judge then compared explicit photos of the woman to "dangling candy" in front of her victim, the Bucks County Courier Time reports.

"What young man would not jump on that candy?" Page said.
Ginnetti now works at a gym as a fitness instructor. She said in court that she regularly volunteers at her church, and is rebuilding her relationship with her husband and three children.

"I don't believe you're a bad human being," Page told Ginnetti. "You did a bad act. So I have to punish you."